Porsche Certified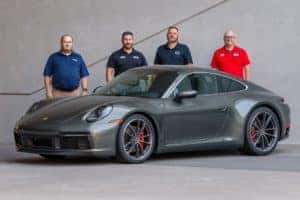 Porsche vehicles have earned the reputation of providing on of the most exiting driving experiences know to automobile enthusiasts. But when your Porsche vehicle is involved in a collision, only the most exacting repair and reconstructive techniques and materials can assure that your "Porsche Perfect" driving experience in not diminished.
---
INDUSTRY-LEADING TRAINIING & EQUIPMENT.
The Porsche Approved Collision Center Program responds to this need. The program encompasses a network of factory-approved collision facilities, each trained and equipped to provide collision services that match the quality of your Porsche. Our Warwick Collision staff has undergone extensive training and made investments in new tools to ensure we properly represent the prestigious Porsche brand.
---
HIGH STANDARDS OF QUALITY.
Assuring Porsche's high standards of performance and quality requires skilled and trained professionals who adhere strictly to Porsche restoration procedures. At Warwick Collision Center, we commit to these procedures, and to the use of genuine Porsche parts, materials, tools and equipment. Porsche Approved Collision Centers are also continuously supported and monitored by factory technical personnel.
---
THE CHOICE IS YOURS.
You get to choose where your Porsche gets repaired. Don't let the claim process be carried out by the insurance company. Make sure your Porsche's repairs are up to Porsche Perfect standards, which is easy with our Porsche Approved Collision Center.
---